KORU Vinohradská
Done by 11/2019
Total Number of Apartments:

59

Avaliable Apartments:

24

More details
Apartments in KORU Vinohradská
Apartments
No apartments available according to your search criteria. Do not give up, your dream apartment is waiting for you!
To find it try a different location or simplify chosen filters.
Project details
Project details
KORU Vinohradská brings all the advantages of living on the border of the center of Prague. On one side, you will be surrounded by stylish Vinohrady with its shops, restaurants and parks, and on the other side you will enjoy the view on the old part of Strasnice and have the possibility of a rapid escape from the city rush. This seven-storeys apartment building will offer almost sixty low-energy flats including non-traditional lofts in 2+tk. To enjoy the weather, each apartment has its own balcony, front garden or terrace. Part of the ground floor will serve commercial purposes, making KORU Vinohradská a part of Vinohrady's boulevard full of interesting shops and showrooms.
Apartment layout
Apartment layout
KORU Vinohradská offers apartments in disposition from 1 + kk to 5 + kk and sizes from 32 m2 to 143 m2. All apartments are built to the highest possible standard and offer the desired comfort in the form of pure Finnish design. The price of the apartment include a cellar, after the purchase of the apartment we will help you with moving for free.
Favourable Mortgage

We are making housing more affordable. That's why we have prepared for you a possibility to select a mortgage with only 10% deposit of your own sources, the remaining 90 % of a loan will be granted by a bank. We have individual approach, your mortgage will be thus tailored by our specialists who will deal with all the administration for you as well. Everything free of charge.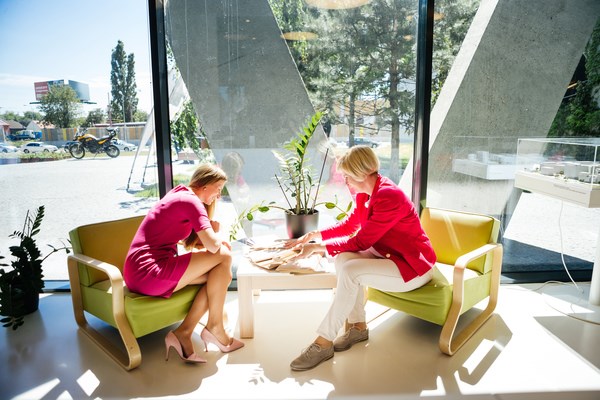 Business premises
Business premises
The KORU Vinohradská block of flats also has non-residential spaces, which are located in the ground floor of the building. The two spacious business premises in Prague 10, which are close to the main Vinohradská Street and Za Strašnickou vozovnou Street, have sizes of 167 m2 and 191 m2.
A purchase condition is the additional purchase of 2 parking spaces (CZK 423 500 per space, including VAT).
Map and services
Map and services
Show services
Show services
Are you interested in KORU Vinohradská?
Are you interested in KORU Vinohradská?