AALTO Cibulka
Done by 12/2019
Total Number of Apartments:

250

Avaliable Apartments:

121

More details
Apartments in AALTO Cibulka
Apartments
No apartments available according to your search criteria. Do not give up, your dream apartment is waiting for you!
To find it try a different location or simplify chosen filters.
Project details
Project details
Airness, simplicity and naturalness, these are the principles the Aalto Cibulka projects is based on. Seven seven-storey buildings make a wave at the edge of Košíře–Motol Natural Park, forming a natural transition between the country and the city. So that everybody can enjoy the closeness of green space, all the apartments have their own front garden, balcony or terrace.
A building 's southern side has views directly into the natural park. The northern side faces a new park with several ponds and has views of the majestic Meopta building. Meopta is one of our planned projects and will be connected to AALTO Cibulka with a common reception in the future. Both buildings will have restricted access for residents only and therefore provide a security of a private compound.
NATURE OUTSIDE YOUR WINDOW
The project stands by the source of the Cibulka Stream, on the very edge of the forest park of the same name, the heart of which conceals an English park full of romantic statues and structures from the 19th century. Come and discover the beauty of our new neighbourhood; with AALTO Cibulka you'll be closer to nature.
ACTIVITIES AND FREE TIME
Whether you will want to go running on the marked jogging paths, play golf or tennis, go bike riding or just take a leisurely stroll along the hiking paths, you will always have a lot to choose from. The surroundings of AALTO Cibulka offer a wide spectrum of activities.
CIVIC AMENITIES
You won't be lacking for important services and civic amenities. There are two preschools and an elementary school close to AALTO Cibulka, as well as a university, medical centre, dentist office and veterinary clinic. You can easily get to Avion Shopping Park, Globus or to the Military University Hospital by car.
Apartment layout
Apartment layout
AALTO Cibulka offers apartments with layouts of one room + kitchenette to five rooms + kitchenette with sizes of 29 m² to 156 m² and top floor penthouses. So that everybody can enjoy the closeness of green space, all the apartments have large windows and their own front garden, balcony or terrace. The cellar is included in the price of apartment and as a bonus, we offer you a free moving.
New! Live and work in the same building!
What would it be like to work right from your home, but to still have an abundance of space and privacy? YIT's new concept entitled HOME OFFICE offers an answer. Our AALTO Cibulka project combines spaces for offices and for flats in the same building. We have chosen seven ateliers for you that you can simply and comfortably outfit like an office, thereby creating an inspirational environment.
Apartment standards
Apartment standards
Each client can freely select from the standard range of wall tiles, floor tiles, flooring and internal doors. You can now try to select what would you like in your apartment online, thanks to our Configurator.
Favourable Mortgage

We are making housing more affordable. That's why we have prepared for you a possibility to select a mortgage with only 10% deposit of your own sources, the remaining 90 % of a loan will be granted by a bank. We have individual approach, your mortgage will be thus tailored by our specialists who will deal with all the administration for you as well. Everything free of charge.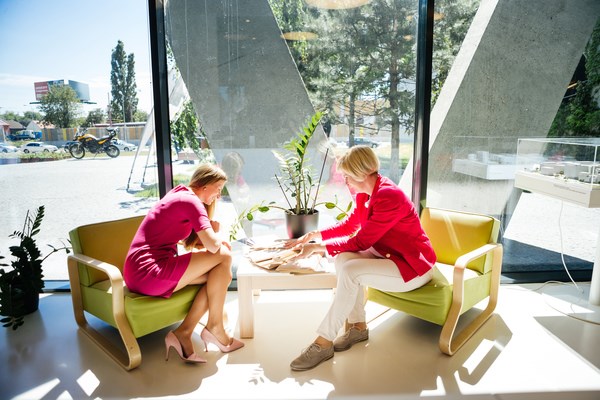 Map and services
Map and services
Show services
Show services
Online camera
Online camera
Are you interested in AALTO Cibulka?
Are you interested in AALTO Cibulka?